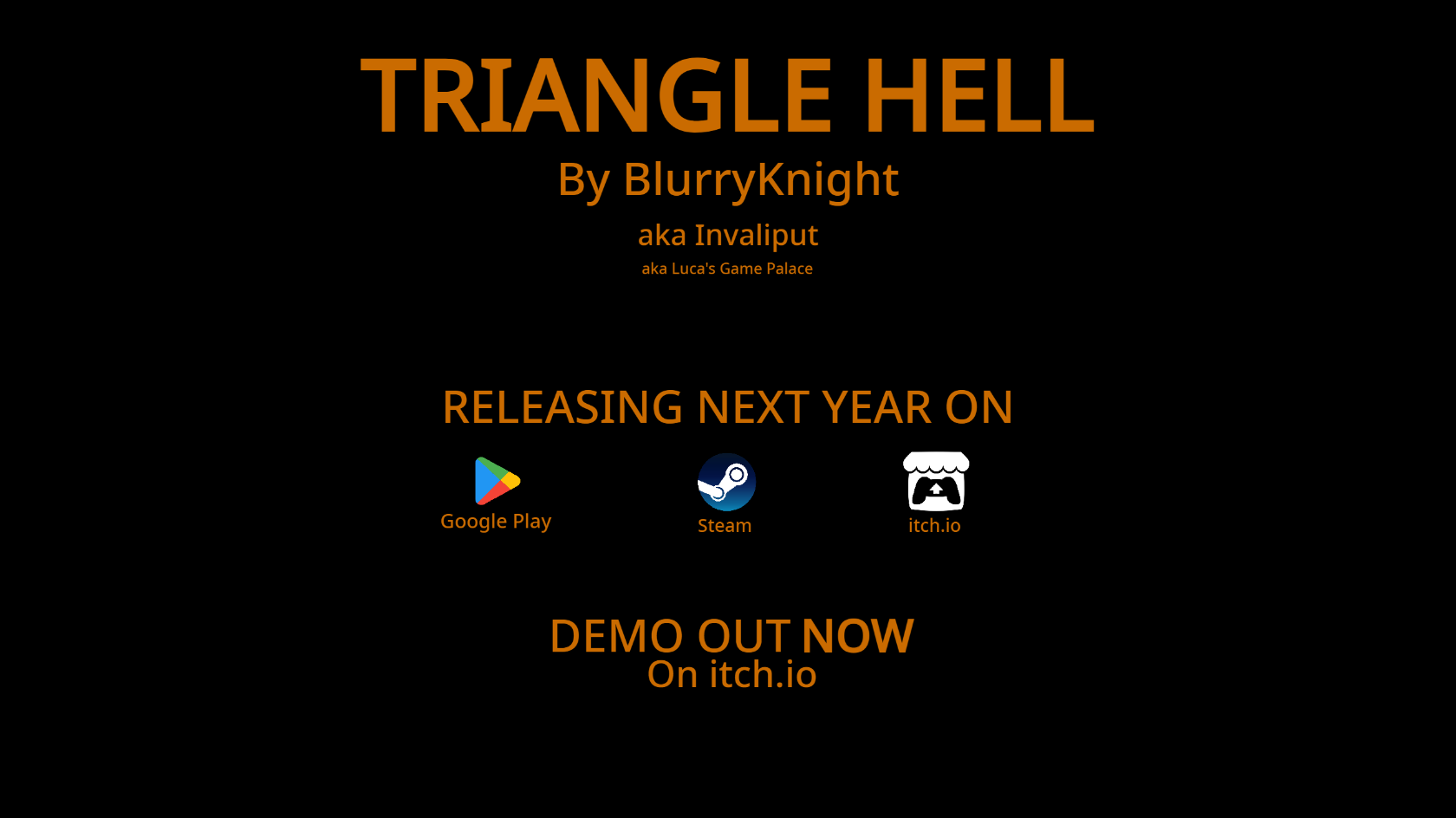 Triangle Hell Demo
[ATTENTION! Looking for the version that i made in one hour? Then click here!]
If you like this game, concider joining our discord server!
You are split into two parts!
You and your other triangle half, that formed such a beautiful square back in the days. But now you are split into two and somehow got into a room full of spikes coming out of the ground! Move fast and switch between you and your other half to last as long as you can.
Features:

Play with a friend and try to get a highscore!
Hear Royalty Free music made by Harry Rais (no i don't know that guy either)

Collect powerups to improve your gameplay but attention! Some might harm you!
Be shocked when you are suddenly shot in the face with dozens of different bullet types!
Controls:
Arrow Keys: Change direction - You cant stop moving
Holding Space Bar (only in Hard Mode): Switch triange
Download
Click download now to get access to the following files:
Triangle Hell (1).zip
114 MB
Comments
Log in with itch.io to leave a comment.
Nice! What engine was this made in?
This was made entirely in Scratch actually haha :D
Didnt expect that, did you? :p
Nice! I feel like I've seen in you in a Discord server about Scratch. Overall pretty cool game though! I definitely will be keeping up with it. I actually make my games in Scratch too
At least i feel like I've seen you in a Scratch discord server. Maybe not who knows, I just feel like I've seen your name before
I am an Admin in the biggest scratch server on discord, maybe you are there? (Scratch Community) 🤔
ah yes I'm in that discord server. Probably where I've seen you then, that's cool. Well good luck on your games.